Seasons: 1
Episodes: 10
Subtitles: 53
Downloads: 13725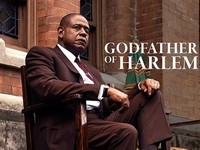 A gangster named Bumpy Johnson makes his way in Harlem during the 1960s. A TV prequel to the 2007 film, 'American Gangster', which centered on the criminal enterprise of Frank Lucas.
Lucy Fry
Forest Whitaker
Demi Singleton
Sereene Brown
Jamaal Burcher
Antoinette Crowe-Legacy
Godfather of Harlem S01E08 - 'How I Got Over'
Date
Down.
Rating
English subtitles