Seasons: 21
Episodes: 95
Subtitles: 87
Downloads: 10826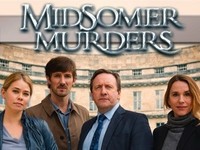 British drama Midsomer Murders that first aired in 1997. As of 12 February 2014, 100 episodes have aired, in sixteen series and three Christmas specials, "Ghosts of Christmas Past" in 2004, "Days of Misrule" in 2008, and "The Christmas Haunting" in 2013. A seventeenth series of 4 episodes has been commissioned and will air in 2015.
Peter Smith(22 episodes, 2000-2011)
Renny Rye(20 episodes, 2004-2015)
Richard Holthouse(16 episodes, 2004-2011)
Sarah Hellings(13 episodes, 2002-2008)
Jeremy Silberston(9 episodes, 1997-2003)
Nicholas Laughland(6 episodes, 2011-2015)
Alex Pillai(5 episodes, 2012-2015)
David Tucker(3 episodes, 2001-2002)
Baz Taylor(2 episodes, 1998-1999)
Moira Armstrong(2 episodes, 1999-2000)
Simon Langton(2 episodes, 2011)
Peter Cregeen(1 episode, 1999)
Andy Hay(1 episode, 2013)
Luke Watson(1 episode, 2014)
Charlie Palmer(1 episode, 2015)
Midsomer Murders S20E02 - 'Death of the Small Coppers'
Date
Down.
Rating
English subtitles
07.01.21 12:59

3

Midsomer Murders S20E02 1080p.HDTV
07.01.21 13:33

8

Midsomer Murders S20E02 1080p.HDTV