Seasons: 1
Episodes: 8
Subtitles: 16
Downloads: 409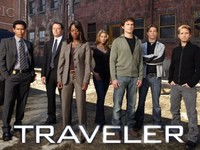 Jay and Tyler find themselves hunted by the FBI after a bombing of a museum. Their only lead is their best friend, Will Traveler, who disappeared after the bombing and is not in any record - anywhere. They need to find him and figure out what part he played in a spiraling nightmare of violence, death and conspiracies. Who is really Will Traveler?
Logan Marshall-Green
Aaron Stanford
Pascale Hutton
Anthony Ruivivar
Viola Davis
Steven Culp
Traveler S01E03 - 'New Haven'
Date
Down.
Rating
English subtitles
17.02.09 16:07

31

Traveler S01E03 HDTV.XOR
17.02.09 16:08

10

Traveler S01E03 720p.HDTV.CTU