Seasons: 3
Episodes: 67
Subtitles: 53
Downloads: 2753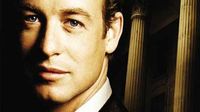 Nick Fallin is a hotshot lawyer working at his father's ultrasuccessful Pittsburgh law firm. Unfortunately, the high life has gotten the best of Nick. Arrested for drug use, he's sentenced to do 1,500 hours of community service, somehow to be squeezed into his 24/7 cutthroat world of mergers, acquisitions and board meetings. Reluctantly, he's now The Guardian - a part-time child advocate at Legal Aid Services, where one case after another is an eye-opening instance of kids caught up in difficult circumstances.
Alan Rosenberg
Charles Malik Whitfield
Dabney Coleman
Erica Leerhsen
Raphael Sbarge
Simon Baker
Wendy Moniz
The Guardian S01E05 - 'The Men from the Boys'
Date
Down.
Rating
English subtitles
19.11.22 22:18

25

The Guardian S01E05