Seasons: 1
Episodes: 3
Subtitles: 14
Downloads: 14781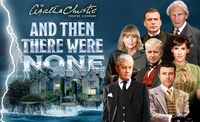 Ten strangers are invited to an isolated island by a mysterious host, and start to get killed one by one. Could one of them be the killer?
Catherine Bailey
Douglas Booth
Charles Dance
Maeve Dermody
Burn Gorman
Christopher Hatherall
And Then There Were None S01E01 - 'Episode 1'
Date
Down.
Rating
English subtitles