Seasons: 1
Episodes: 1
Subtitles: 2
Downloads: 53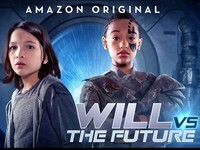 A sci-fi action comedy about middle-schooler Will, who is visited by a time-traveling, rebel warrior named Athena. Athena shocks Will when she tells him that he grows up to destroy the world.
Teo Briones
Lexi Underwood
Ashlyn Faith Williams
Shi Ne Nielson
Thomas F. Wilson
Will vs. The Future S01E01 - 'Pilot'
Date
Down.
Rating
English subtitles
02.09.17 11:55

9

Will vs. The Future S01E01 WEB.STRiFE
02.09.17 11:55

44

Will vs. The Future S01E01 WEB.STRiFE