Seasons: 1
Episodes: 1
Subtitles: 4
Downloads: 14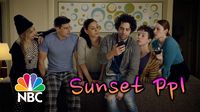 "Sunset PPL" is a comedy about a group of millennial friends who struggle with their own made-up rules for personal and professional success. Colom and Valentini have collaborated on numerous short films and web series.
Alesha Renee
Julianna Guill
Cass Bugge
Aaron Colom
Brandon Kyle Goodman
Jen Kater
Sunset PPL S01E01 - 'Pilot'
Date
Down.
Rating
English subtitles