Marvel's Agents of S.H.I.E.L.D.
Year: 2013
Seasons: 7
Episodes: 136
Subtitles: 1089
Downloads: 568626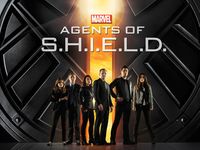 Clark Gregg reprises his role of Agent Phil Coulson from Marvel's feature films, as he assembles a small, highly select group of Agents from the worldwide law-enforcement organization known as S.H.I.E.L.D. Together they investigate the new, the strange and the unknown around the globe, protecting the ordinary from the extraordinary. Coulson's team consists of Agent Grant Ward, highly trained in combat and espionage; Agent Melinda May, expert pilot and martial artist; Agent Leo Fitz, brilliant engineer; and Agent Jemma Simmons, genius bio-chemist. Joining them on their journey into mystery is new recruit and computer hacker Skye.
Clark Gregg
Ming-Na
Elizabeth Henstridge
Iain Caestecker
Brett Dalton
Chloe Bennet
Marvel's Agents of S.H.I.E.L.D.
Season:
1
|
2
|
3
|
4
|
5
|
6
|
7